A Hotel Gem In Georgetown Bahamas
Your Exclusive Bahamas Hideaway
Over 60+ years, we have welcomed rock stars, royalty, and other island lovers to our beloved island resort. Just like them, your real-world tensions will melt away the second you step through our welcoming doors, enchanted by the music-serenaded pool, lush tropical greenery, and sparkling sea views. We can't wait to serve you, your every need and preference at our Georgetown Bahamas hotel.
Historic Waterfront Hotel
Copia Restaurant
The Flagler Room
Doc's Bar
Spectacular Beach Club
Island Cottages
Private Event Space
"Launch Pad" to Elizabeth Harbour
Activities
About Peace & Plenty
Our beautiful 34-room hotel is an iconic landmark and institution of Georgetown, Great Exuma. Built in 1958 by Lawrence Lewis, the grandnephew and heir of railroad tycoon Henry Flagler, the hotel is located on the site of a former Loyalist cotton plantation and takes its name from a British trading ship, the Peace and Plenty, that arrived on Exuma in 1783.
Stamp Of Approval
In the six-plus decades since it opened, Peace & Plenty has become the heart and soul of the island - the quintessential hub for visitors and locals to gather, celebrate, and socialize.
In 2014, in recognition of the importance of tourism to The Bahamas and to mark the 50th anniversary of the Ministry of Tourism, the Bahamian Government unveiled four commemorative stamps featuring the islands' seminal hotels. Peace & Plenty was not only among them, but also the oldest of the four- a testament to its enduring legacy.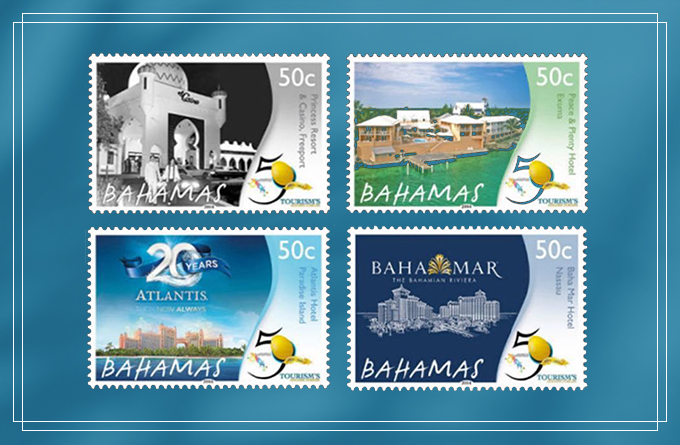 A Magical Exuma Island Escape, in the Bahamas